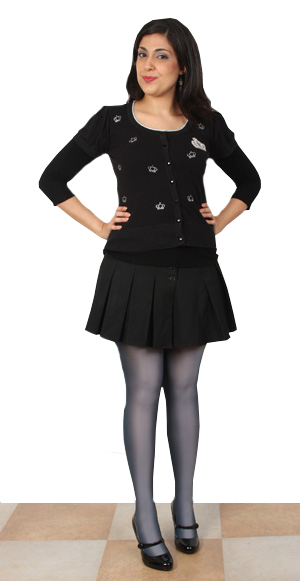 I think we all know that specific patterns can change the way we perceive shape and size. For example, vertical stripes make you look taller, hoops make you look wider, and checks have an enlarging effect. All these tricks are deliberately used by fashion designers and advertisers daily.
Contrast colours are also used in sophisticated ways. Only recently, an already very curvaceous celebrity enhanced her curves further by having shaped black side panels on an otherwise white dress taking inches off the look of her waist. Pretty Polly has tried with these tights to vary the colour in a way that draws the eyes away from the edges of your legs. The same visual trick as used in that curve emphasising dress. So does it work?
At their heart, these are 40 denier matt finish one size tights. The tights are made in the lightest of the shades of grey, with the darker stripes printed on the inside and outside of each leg. For some reason, we had imagined it would be the other way about. The legs are unshaped and finished with an invisible reinforced toe detail. The panty is a boxer style with well-finished seams but no gusset. We would have hoped for a bit more in tights at £12.50. Take away the clever printed design, and you have a very ordinary pair of tights indeed.
Fortunately, the clever printed design does work up to a point. The constantly changing shade of grey makes it quite hard to focus on the outline of the leg at all, and the effect is slimming. We asked one of our ladies who have particularly shapely legs to test these tights out for us. As you can see from the picture, there is a slimming effect. But at the expense of all those lovely curves! One gripe with a test pair was a line about 2mm wide down the outside of the leg where the colour seemed to have been double printed on the overlap.
You should undoubtedly try these tights. But Pretty Polly really should use the idea again based on better quality tights. Preferably made in multiple sizes (ladies wanting a slimming effect may not be the average size), with a gusset for better fit and more attention to quality control on the printing. Excellent design concept, but the quality does not justify the price.
For more Pretty Polly products, click here. For more reviews, click here.