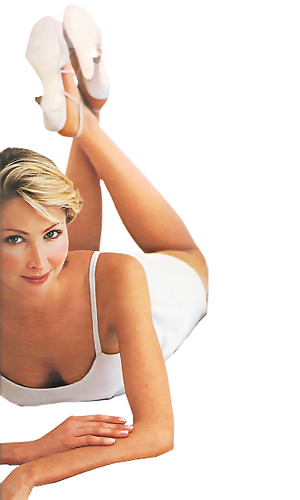 Not to be confused with Pretty Polly Cool Occasion Tights that use a unique fibre mix to keep you cool. These are 100% nylon tights that deal with the problem of crotch ventilation by the simple expedient of having an opening where the gusset would typically be found. The three sizes are all designed for heights up to 5'8 or 5'10", only the hip size varies much from size to size, with a spread from 36" to 54". Why there is no small size we don't know. Perhaps Pretty Polly feel that ladies with hips smaller than 36" or less than 5'0" tall don't have ventilation issues.
It has to be said that these tights look very much like supermarket multi-pack tights on the first impression. Detailing is relatively unremarkable with a reinforced boxer style brief attached unshaped legs finished with reinforced toes. The seams in the panty are of the raised type, relatively small and reasonably well finished. The same "seaming" is used to finish the edge of the open gusset. In our XL test pair was slightly bigger than the usual gusset opening in a pair of tights.
Considering that these are 100% nylon tights, there is quite a lot of stretch, and the fit is excellent. The Colour is even, and the matt finish provides a subtle if unremarkable finish. The boxer style brief sized for hips up to 54" in our XL test pair was too generous for any of our testers. Be sure to buy the right size for your hips. There is enough stretch to go down a size if you are borderline.
The open gusset will appeal to some, as to how effective it will depend on the underwear you pair these tights with. A cotton-lined gusset gives you the option of not wearing other underwear, and no gusset is more limiting. The degree of ventilation when wearing panties cannot be compared to what you would get from wearing stockings or hold-ups. The open gusset saves nothing in manufacturing costs, and at £4.00, we think these tights are a little expensive. You could get the same effect from any tights with a gusset simply by spending a couple of minutes with a pair of sharp scissors.
All in all an interesting concept that doesn't quite work for us. Average everyday tights at a slightly inflated price. Although they provide a rare opportunity to buy Lycra free tights, and much as we like the fit Lycra gives, we know many people yearn for the 100% nylon tights of years gone by.
For more Pretty Polly products, click here. For more reviews, click here.