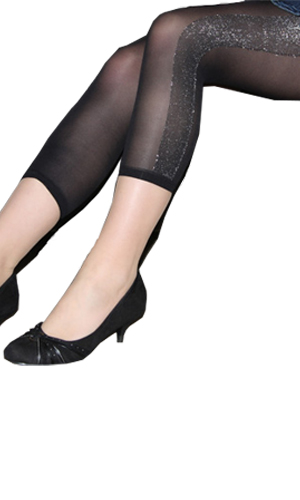 The packet has only general notes about Jonathan Aston and neither words nor pictures to tell you what they are like. Luckily we are here to help! The first thing you notice on opening the packet is that these tights look very short. They are designed as Capri length rather than footless, so this is expected.
The brief is finished with flat seams and a cotton-lined gusset. The legs are finished with a narrow cuff. A wideband with a slightly different shade is down the outside of each leg and highlighted with Lurex to sparkle.
We need not have worried about length. There is plenty of stretch to give an excellent fit in the panty and a good fit lengthways on the legs. The Lurex band is far more subtle than we expected. While you may not want to wear these tights to the office, younger women could wear them both during the day and for a party. It was suggested that these could be paired with the striped diamond net knee-high from Jonathan Aston. These also carry a stripe down the outside of each leg. However, the line carried through the meeting of Capri tights and patterned knee-high looked messy. We would recommend these tights with sheer tights underneath.
These tights fit well, look great and feel smooth and soft. A great addition to your Spring wardrobe. In the photograph, Sophie has paired the very funky Jonathan Aston tights with classic ultra-sheer Falke Fond de Poudre Tights for a brilliant look for any young woman.
We would not usually cover knee-high hosiery as a site dedicated to tights. Call them "pop socks", and we start to think of them as the work of the devil. But we had a few pairs that came with these tights, and although they would not work with them, Sophie was willing to give them a try. Of course, provide a funky and fashionable woman knee-high socks, and she comes into the room wearing them as over-knee stockings. Boy, do they look good! Again worn with the Falke Fond de Poudre Tights.
For more Jonathan Aston products, click here. For more reviews, click here.