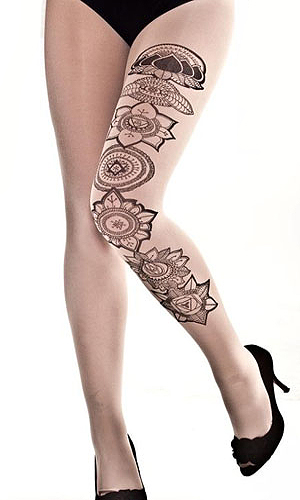 All Zohara tights are based on the same construction, with only the printed design changing from one to another, so for details on the tights themselves, take a look at our review of Zohara Tights with Flower Print. A minor point we forgot on earlier reviews related to the packet. It is longer than the run of the mill tights packet, is quite solidly constructed and has a Velcro closure rather than the piece of sticking tape used by other brands.
Zohara intends you to get a lot of wear out of these tights and store them in their original packaging. Top marks! Just be aware that Velcro and sheer hosiery together is a recipe for tears, so take care. We love the soft feel of Zohara tights and how they are made to feel like they will last forever. The flat seams are excellent, the only hint niggle being the untidy edge of the gusset.
Zohara has limited the design to the front of the left leg with this style, and it is printed to the very highest quality. Even stretched to the maximum, the pattern retains excellent definition. The picture above is an honest depiction of how these tights will look on you.
Although one size tights, with no real suggestion on the packet of the limits of that one size, sizing is generous, and the fit is good too. Leggy girls over 6'0" can wear Zohara. Warm, cosy, and unique design. These tights were described by one of our readers as "lush". We think that means they liked them.
For more Tights, click here. For more reviews, click here.