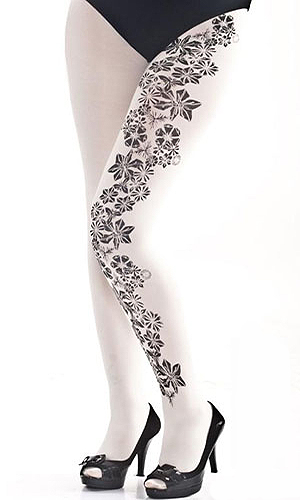 We were delighted to see that our latest box of samples we got contained several samples from Zohara. And not just because it finally meant that we could claim to have reviewed hosiery from A-Z rather than just A-Y.
There are three ways of getting a pattern onto/into tights; embroider on, knit in or print a pattern on the finished garment. Zohara used the last method, knitting plain tights in a base colour and printing on the artwork. For example, we have seen printed designs before from Celeste Stein. But Zohara does not print an all-over pattern but rather adorn the tights with an artistic design.
Unlike Celeste Stein, a good amount of the price has been spent on the knitting and sewing of the garment. A uniformed weight and finish hip to toe, flat seams in the panty and a lined gusset. The legs are unshaped, but that is understandable as the legs have to be straight and flat to print the design.
A printed design gives far crisper edges than a knitted or embroidered design as there are no thread ends, and the design on our test pair of this style was as clean and crisp as we could wish for. The downside of the printed design is that the pattern can crack when the base material is stretched.
You can put these tights on either way round as the pattern on the front of the left is repeated on the back of the right leg. If you are a tall UK size 16, these tights will easily stretch to fit and feel great. It is a very well-made 120 denier opaque tight from the toe with its run-stop detail to the soft waistband. The only downside of using all the stretch available is that although you get a good fitfully stretched, the design loses a little of its density and impact.
We like the floral design, and its hand-painted effect makes these tights stand out as a fashion statement. Black on cream (Panna is Italian for cream) works. They look exclusive and expensive. As far as value for money goes, £20 is not a lot to pay for exclusivity and quality.
For more Tights, click here. For more reviews, click here.