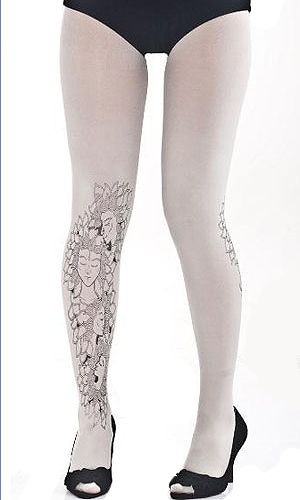 Zohara sticks to a relatively simple recipe, one size, 120 denier plain tights with a printed pattern. Simple but effective. One variation they allow themselves is making some of the styles as tights and footless tights or leggings. This style is the footed version of their Medusa Tattoo tights.
The two styles are identical in terms of basic construction, aside from one having the toe end of the leg seamed and the other having it turned up into the hem. Sheer to waist with flat seams and a gusset, they are well detailed and well made.
Both garments are the same length. So the footless version could work best for you if you are very long in the leg. The heavy 120 denier material is smooth and soft to the touch and promises warmth, comfort and durability.
There is no front, and back to either style and whichever way you put them on, you will get a design down the front of your left leg and down the back of your right (not as pictured above). The only variation we noticed with our test pieces was that the pattern was printed higher on the leg on the closed foot version to ensure it started above the ankle.
Both styles stretch to fit even the tallest women, and the fit is excellent. Even at a maximum stretch, the pattern is well defined. The pale colour and artistic design are not particularly slimming, but they make a bold and eye-catching fashion statement if you are slim in the leg.
For more Tights, click here. For more reviews, click here.