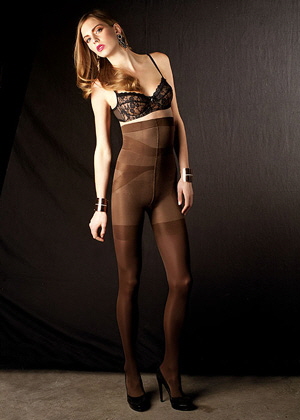 We know Trasparenze as the leading making of sheer fashion hosiery and as a maker of great sheer tights, too, but this is entirely different. Not just control top tights but full shaping tights with a 40 denier semi-opaque leg.
Trasparenze never does things by halves. Just from the picture above, you can see that they have gone to town with these tights. Hosiery from toe to upper thigh but engineering from there upwards. We have seen similar complete shaping tights from Aristoc and Charnos, so how do these compare?
There are 4 sizes, with the largest fitting up to 180cm or 6'1" we say or because 180cm is 5'11". Trasparenze tends to fit long legs well, though. The other total shaping tights have sheer legs. Trasparenze has opted for 40 denier, which appears on first inspection to have been closely knitted to give a fully opaque look. The legs are very lightly shaped at the heel and have the toes the same weight plus a run stop, so toe holes do not become leg ladders.
Massive is the only way to describe the panty. Out of the packet, it is fully 40% of the total length of the tights, and boy, does it feel robust. You might need the shaped heel to give you a clue as to which is the front and which is the back. Important as the design is intended to lift and smooth your bottom and flatten your tummy.
As well as bands and panels to the left and flattening in the bottom and tummy area, there are bands to shape the waist. Above the waist shaping, it is all about smoothing the underside of your bra. The feel is like a proper shaper. We had no problem with the top band rolling as we have with other tights with a similar design. As a shaping garment, these tights are superb.
Of course, tights are about showing off your legs, and Trasparenze has also hit the target. The 40 denier velvet finish is soft to the touch and has perfect even colour. The look is that of a true opaque but without the weight of 60 denier or heavier tights. These are simply the best shaping tights we have seen. No compromise in the design, and they work. Accurate sizing with enough stretch for taller ladies.
For more Trasparenze products, click here. For more reviews, click here.