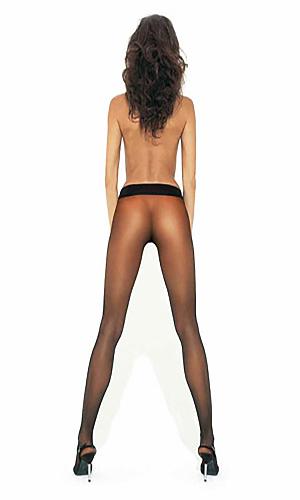 If you want a perfectly smooth silhouette under the light and clinging fashions, then by far the best option in terms of hosiery is seamless tights. The problem with seamless tights has been that they have always come at a premium price compared to "normal" tights with a seam in the panty. Now though, Sarah Borghi is trying to rewrite the rules. When quality tights have increased in price from around £7 to £12, they have brought in a seamless style at not much more than half the price of established seamless styles such as Wolford fatal. The question is, are they any good?
First impressions are very good, as with most seamless tights at first glance, the look is like an overgrown knee-high, but it is the feeling that gets our attention, smooth and soft. There are several methods of closing a pair of seamless tights, and the one used here by Sarah Borghi is much like that used by Fogal and others. There is a heavier panel in the gusset area, and the tights knit out from there. The knitting process for seamless tights means it is easiest to knit them hipster length. Here a little cheating has gone on as a deep waistband (6cm 2.5") seamed to the top of the tights. The toes are lightly reinforced.
As there is a seam in the waistband, these tights have a front and back. Putting the waistband seam to the front really would defeat the whole purpose of seamless tights. We do have to ask why they did not knit the waistband as a tube. The waistband does improve the fit and comfort, allowing you to wear the tights slightly over your hips if you wish. Sizing is on the generous side as there is plenty enough stretch to play with; you can happily steal several inches in height and a dozen pounds in weight on both maxima for the largest size.
We have seen a comment elsewhere that these tights are not as sheer as in the picture above. How sheer they look will depend on how far you stretch them and the intensity of lighting. At 40 denier, they are at the heavier end of semi-opaque. Stretched evenly, the microfibre material gives a perfectly even finish.
Unfortunately, the seams attaching the waistband do show with clingy fashions. Still, the horizontal line at hip level is far better than the front and back vertical line with conventional tights. But this is only a minor quibble with tights that offer a great look and feel at a sensible price. It is not the sexiest seamless tights ever but among the most practical. As an alternative to conventional hipster fit semi-opaque tights that cost around the same, it is no contest; you must buy these.
For more Sarah Borghi products, click here. For more reviews, click here.