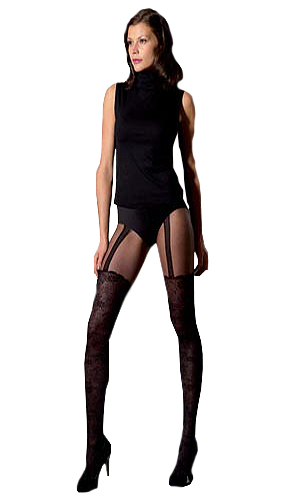 It seems only yesterday that we were writing about the proliferation of tights taking inspiration for their design from stockings. So can this design stand out from the crowd?
First impressions are excellent; for 50 denier tights, these feel pretty light. This may be because they are more like 15 denier from mid-thigh to gusset with just two "suspender straps" joining the plain panty to the patterned legs. The legs have a tulle appearance with a leaf and flower pattern incorporated. Aside from mixing weights and pattern, there is nothing clever in the construction, straight legs and a simple toe seam with no toe reinforcement. The panty features well made flat seams and a cotton-lined gusset to help fit comfort and hygiene.
There are three sizes to choose from, fitting up to a height of 185cm (6') and a weight of 90kg (200lb). The sizing is accurate, and you could even steal a few inches of height. The largest size will fit a 35" leg with ease. Fit is good too, these are comfortable tights. Importantly, they are easy to put on with the suspenders straight and correctly positioned.
The patterned leg is very classy indeed, and it conceals well without being overly heavy. Lace patterned tights can sometimes be uncomfortable, but the plain upper leg and panty avoid this problem. The more sheer upper leg also provides a cooler band between the warmer lower legs and panty.
Mock suspender tights will never pass for real stockings and suspenders. But the look here is as close as you can get to suspender patterned tights worn over sheers as you will find. The panty is heavy and opaque enough to give you a smooth silhouette and avoid the need for any other underwear. Sarah Borgi has avoided creating yet another contrived design. They have succeeded in bringing a touch of class to the genre. Based on this style, we would say that Sarah Borgi is a brand to watch.
For more Sarah Borghi, click here. For more reviews, click here.