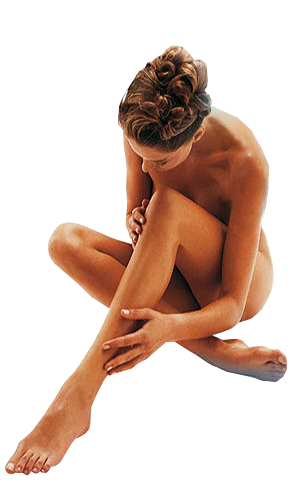 We have been reviewing tights for over a decade, we have seen it all, and we don't shock easily. But the woman on the front of the packet of these tights is naked! We have looked and looked, and she is not wearing tights.
Thankfully, this is not a case of the "Emperor's New Clothes". There is a pair of tights in the packet. And then comes the second surprise of the day, tights with a great look and feel of quality, shaped legs, perfectly finished sandal toes, sheer to waist, flat seams in the panty and a cotton-lined gusset. All of this for under £5. It is like we slipped back in time, in an excellent way.
Of course, we can't pile on too much praise. The packet is misleading; it suggests a reinforced toe detail. More accurate we expect is that the largest size (5 or XXL) has a comfort gusset rather than a cotton-lined one. There are four sizes, aimed to fit from 4'11" to 6'0" (150-185cm) and 89lb to 200lb (40-90kg); sizes 1&2 are combined into one. Our test pair came in size 4, which is good as we prefer a real gusset that is more typical of the style as a whole. Size 5 only caters for extra weight, not height anyway.
Well, there had to be a catch. Once we had the tights on, it was clear that they were not sheer to the waist but had a boxer style brief. The brief is not very different from the legs, so we missed the demarkation when we first inspected the tights. Sizing is spot on with a bit of scope stretch lengthways if you are taller than 6' or particularly leggy. The panty portion is made slim and with come light control, so pay heed to the weight part of the size chart. An indication of hip sizing would have been helpful.
There are just three colours on offer, black, bronze and sabbia. The bronze is very dark, so if you are after a natural look, we would suggest sabbia for the algae, vitamins and minerals. Well, they may be there, but all we could see and feel was very well-fitting sheer tights with perfectly even colour and a slight sheen to the finish. Anything extra is a bonus if it is there and it works.
If you want quality sheer tights at a great price, give these a try. If you see benefit from the algae, let us know. For more Sarah Borghi Tights, click here. For more reviews, click here.