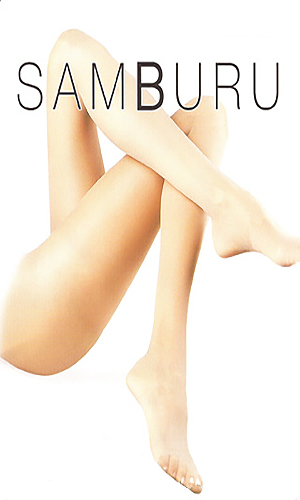 We frequently describe ultra-sheer tights as 'summer tights', but it is rare for the makers to use this term. Here they have used the term and named the style St. Tropez too, so you are no doubt that these are tights for warm sunny days.
Unlike some summer tights, these come in a range of colours to suit all skin tones. So if you are from a cooler, less sunny country and it is early in the season, you can pick a shade either to add a sheen to your skin, or one to add a little extra colour. Of course, you can go for the full summer tights effect and slip on a tan that looks like you just spent two weeks in the Caribbean.
Five sizes are available, all with unlined gussets. The largest size has a comfort gusset/rear panel that is 7cm wide at the waistband. As you would expect of 10 denier summer tights, these are very light indeed. The detailing is quite simple. Sheer to waist with sandal toes, straight legs and just the narrowest of reinforced strips on either side of the seams and around the gusset. The gusset is the same weight as the reinforced part of the leg.
The heavier material continues into a finger band to give the simple waistband a smooth, strong transition. The seams in the panty are unremarkable. We would have preferred a flat detail, but it is understandable why this was not done at this price. The sizing is accurate, and the fit is near perfect. There is a delicious sheen to the finish so that if you get the right colour, the look will be more of perfect lightly oiled skin rather than hosiery. Excellent summer tights that we are happy to recommend.
For more Tights, click here. For more reviews, click here.