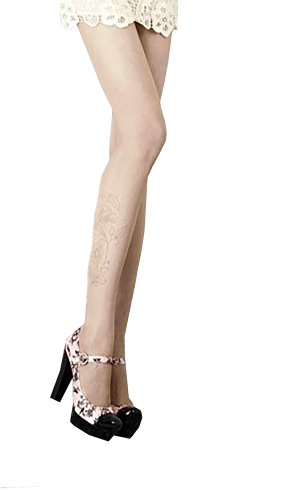 Featuring a floral pattern on the outer lower leg, these tights are perfect for the spring. This design will add an extra twist to your outfit and look great with skirts, dresses, and shorts.
Red or Dead are known for making fashion tights that make a statement. Known for their out of the ordinary designs for the younger woman. So when we picked up these tights to review and saw what looked like sheer natural tights through the window on the packet, we were pretty shocked. We should point out that Red or Dead tights are only available online. The packets are all identical, and at the time they arrived, we had not seen the photo above.
The tights are based on a fairly standard formula. 20 denier, sheer to waist, straight legs, a very lightly reinforced toe, cotton lined gusset and T-band reinforcement. What makes Red or Dead Valentina a stand-out style worthy of the Red or Dead name is a delicate floral tattoo on the lower leg with jewelled highlights. The little jewels we thought were crystals at first. But on closer inspection, they look and feel like spots of resin with glitter bonded in. A much better solution as they will not snag or otherwise damage the tights.
Once on, the reinforced toe is almost invisible, so you could certainly wear these tights with open-toe shoes. The legs look and feel sheerer than 20 denier suggests and have perfectly even colour and a slight sheen on the finish, the ideal background for the design.
If you ever fancied trying the look of a henna tattoo on your leg; then this is the perfect chance at a bargain price and a commitment measured in seconds. The effect of the design is that of a very expertly drawn pale henna tattoo under sheer tights; only the sparkly highlights give a clue that the tattoo is part of the tights and not under them.
Fit is perfect from hip to toe, and sizing is accurate. Although you may need a little patience to get these tights stretched to the limits of the sizing for length. Our tip would be to go up one size if you are in doubt or are long in the leg for your height. Great for any season and occasion, you can be sure your legs will be the centre of attention. We have seen the best tattoo effect tights because they look like a henna tattoo and our favourite style from Red or Dead to date.
For more Tights, click here. For more reviews, click here.