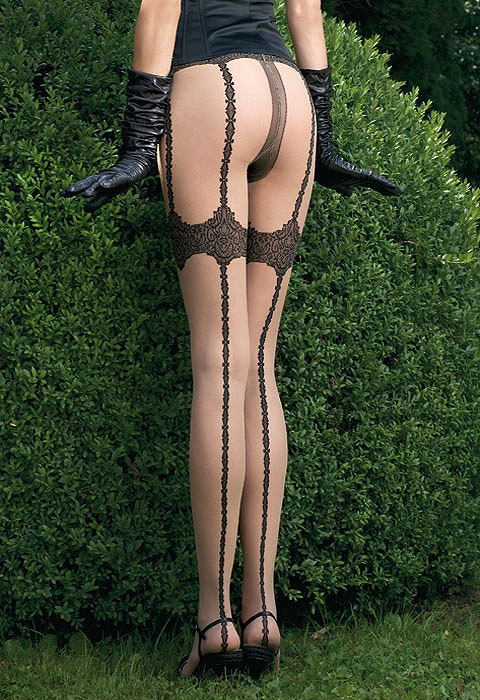 Trasparenze constantly comes up with eye-catching designs and exciting variations on themes. Trasparenze Becky is a new take on the "tights styled as stockings and suspenders" theme.
As usual with Trasparenze, there are 4 sizes to choose from, covering a wide range of shapes and sizes. The sizing is as accurate as ever. There is no denier quoted on the packet, but our estimate for the sheer part of the panty and leg is 20 denier. The legs are shaped and finished with a lightly reinforced toe. The panty is finished with flat seams and a cotton-lined gusset. There is just the narrowest of reinforced strips on either side of the seam in the panty.
The seam detail is wide and runs from the toe to the "stocking top" design mid-thigh. The same design is used for the suspender straps, of which there are 4 per leg. There is a small suspender belt detail below the waistband that carries a Trasparenze motif on each hip. We can't quite see the point in the sheer material between the belt and waistband. It destroys the illusion of stockings and suspenders. UK Tights stock these tights in both black on white and black on nude. Our review sample came in black on black, which is the least effective colour combination.
Lovely tights, but they don't get us quite as enthused as other similar styles from Trasparenze. That said, at £11.50, they offer a lot of reasonably priced styles.
For more Trasparenze products, click here. For more reviews, click here.