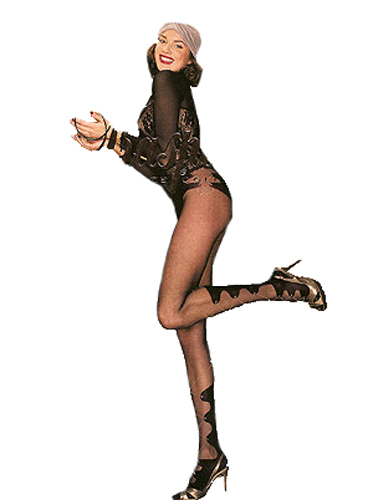 First impressions count for a lot, and having seen the picture of these tights above; we were ready to wax lyrical. But there was no first impression.
We were still not quite sure what to say once the tights were opened out. Other than to note that the sheer and opaque parts of the tights looked very similar in weight. It was only when we started to look at the detail that we started to form an impression.
The "sheer" part of the leg is a fine tulle rather than a true sheer; a soft heavy fibre is quite an open-knit pattern. The opaque parts are the same fibre but knitted more closely, like a traditional opaque. The opaque parts are restricted to the sole and sides of the foot, the back of the lower leg and the high leg panty design in brief. There is a small amount of shaping at the heel, and the brief is finished with flat seams and a cotton-lined gusset.
The design only makes sense once you have the tights on your legs. The opaque parts on the lower leg are styled to look like a shoe, with a lace pattern joining them together at the front of the leg. And by lace, we mean as in a golden shoelace on the sheer black part of tights rather than a lacy pattern. The idea is repeated on the hips as a lace pattern joining the opaque front and back of the brief.
To make the idea work, you need to wear a pair of shoes the same colour and plain court shoes. Because any straps or other details will clash with the shoe design in the tights. A suede or fabric finish would work best to complete the look. In truth, the opaque parts are not dark enough, the sheer parts not sheer enough, and the lace detail is slightly too faint to look completely convincing.
These are well-made and accurately sized tights that fit well. But when you would wear them, we don't know what with. You are probably better to get a quality pair of sheers and buy lace fronted boots/shoes if that is the look you want. This is a design that will divide opinion. We even changed our minds here during the day. It so very nearly works, and it grew on us with time. Trasparenze tights are never boring!
For more Trasparenze products, click here. For more reviews, click here.