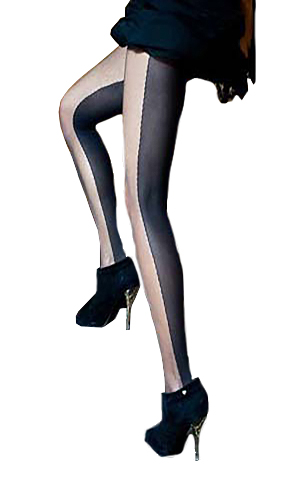 One of the sexiest pieces in the collection, Red or Dead's finest, the Ursula two-tone tights are here at long last. The combination of sheer and opaque proves a more than popular hit on the catwalks this season. Red or Dead have incorporated this fantastic trend and given it an innovative touch!
The wavy seam down the side of the leg looks seductive yet classy. A perfect accessory piece that will compliment any outfit for a special occasion. Get beyond fashion this season and invest today to get your legs noticed truly.
This design differs from most of the Winter collection from Red or Dead in that the colours available are black, grey, prune and white. The petrol blue included for other styles is omitted. The website calls the grey "light grey", but it is not that light. The sizing appears a little different, too, as there are three sizes, small, medium and large. Stacey is modelling a pair in black for us.
The styling is very eye-catching. The back of the leg is a fine voile (very fine fishnet), the front is sheer, the denier refers to the back of the leg, the front is more like 15 denier. Between the two weights is a scalloped edge. The weight of the back of the leg is continued in a deep band below the waistband, which gains a floral lace design in this area. The seams in the panty are flat, and there is a cotton-lined gusset, details missing from some of the Red or Dead range and a welcome inclusion here.
The legs are unshaped, and the sheer front continues to the reinforced toe detail. Several companies have attempted a dual weight tight this season, but this is the design that we think works best. The sheer gloss finish front and matt netback contrast beautifully. The scalloped edge between the two is classy and much easier to wear than a straight line because minor wiggles are disguised.
The sizing is accurate, and the stretch is generous. Even the medium size could be stretched to fit someone for whom large should be the correct size. The quality is such that we never felt the fabric would fail. Far and away from the best of the Red or Dead range so far, highly recommended.
For more Tights, click here. For more reviews, click here.