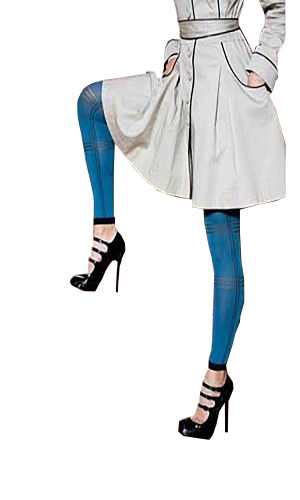 The glamorous Una Tights, designed by Red or Dead, are an exact sentiment of the brand's vibe. The fully opaque tights are almost leggings and include a beautiful sheer stripe detail throughout the leg.
This strong statement piece proves a prime example of the genuine individuality of the brand whilst demonstrating its high fashion influence. Easy to wear and on-trend, the Una tights are an essential piece to get you noticed this winter!
There are four colours available, Black, Brown, Prune, and Petrol. The size chart suggests three sizes, but our test pairs came in Medium/Large, and the lists are only small and medium. So we must assume there are just two sizes.
The first thing to note about this style is that it is footless. The leg is also finished with a simple plain cuff. The rest of the construction is simple, too, with unshaped legs, a simple seam in the panty and no gusset. What sets these tights apart, a pair of black stripes up the inside and outside of each leg and two sets of three hoops around the leg, one above the knee and one below. On the black tights, the hoops are transparent. On the other colours, they are black.
Take care to align the two legs, and this quite simple bit of detailing catches the eye and differentiates these fashion tights from plain footless opaques. The fit is good despite the lack of a gusset, and the sizing works perfectly. There is no need for a bigger size; just be aware that if your hips are over 42″, you may find the larger size too snug. Perfect with killer heels and a short skirt, our tip is to wear sheers underneath to finish the look. If you choose the black version, wear over the brightest coloured plain tights. You can find a real killer look all of your own by doing this.
For more Tights, click here. For more reviews, click here.