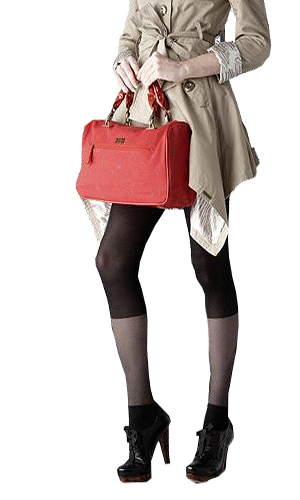 If we have one criticism of the Red or dead range, neither the packets nor any other website tells us very much about what their tights are made of and how they are constructed. That at least gives us something to write about and speculate on. What we could ascertain from their website is that three sizes cover a range of heights from 4'11" to 6'1" (150-185cm) and weights from 88-198lbs (40-90kg); there are three colours, black, graphite and ocean blue. Our test pair came in large and black (or "Nero" as they would be called in Italy).
As you can guess from the picture, these are opaque tights that are sheer below the knee, but that is only part of the story. The sheer section is relatively short (around 9" or 23cm on the leg) whole foot is opaque. We would estimate the opaque parts at around 50-60 denier and the sheer at about 20. The legs are straight, and the feet are finished with quite a basic semicircular toe seam. The panty is finished with flat seams and a cotton-lined gusset.
Sizing is accurate, and the fibre mix contains a sensible amount of Lycra to help with both stretch and fit. This is undoubtedly a novel twist on the theme of Capri length opaques with a built-in sheer lower leg. The opaque foot both looks and feels like a fine sock. The sock is darker and more textured than the Capri top.
A clever design that delivers something close to the look of Capri tights and socks over sheers at a realistic price. Perfect with ankle boots or brogues. Innovative design, well made and accurately sized. One of our favourite ideas from the Red or Dead range.
For more Tights, click here. For more reviews, click here.