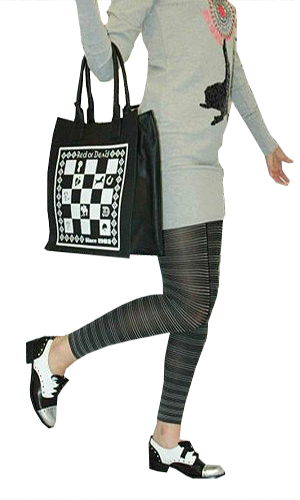 Firstly an apology for not providing any information on denier and fibre mix. Neither their packaging nor any website carries this information. All we can tell you is that they are made in two sizes, small/medium and medium/large, and you can have any colour so long as it is black!
The stunning Pippy tights will make an excellent addition to your hosiery collection. Red or Dead are giving you some footless fun in the summer sun with these funky tights! These tights can be worn dressed up with the Glam Rock trend or casual with a simple T-shirt or jumper. These are limited edition, and so please hurry to snap them up!
The size chart describes three sizes. We can only assume that the borderline between the two sizes is in the middle of the medium size. These are footless tights made with a black background on top of which there is a grey hoop pattern made up of alternate bands of three-wide stripes and three narrow stripes.
Construction is as simple as it could be, entirely unshaped, with a simple cuff at the end of the leg and a plain black waistband. A single seam in panty which is quite heavy and raised and despite the brand strapline of "Glorious Gussets", this style does not have one.
Once you have these tights on, you can see that they were knitted in a spiral, as is entirely normal for hosiery, with the result that the hoops around the leg are out of alignment by one row of stitches, this gives the appearance of a line up the inside of each leg. The look on the leg, the fit and the feel are all pretty good. Our tip would be to wear with sheers under of socks over unless you have spectacularly pretty ankles. Even then, sheers would look best.
A fun and funky design but not £10.49, in our estimation. With that sort of money, we would have liked a few more quality features in the construction.
For more Tights, click here. For more reviews, click here.