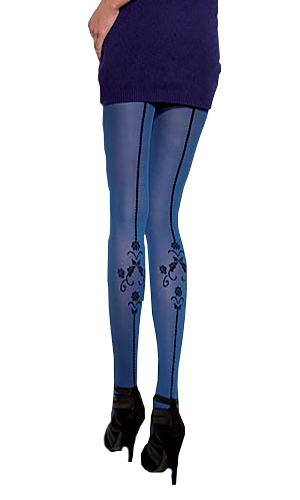 When we first saw photos of Sarah Borgi tights, we just knew we had to get some to review, so now, with great anticipation, we approach our first pair. Flat seams, a cotton gusset, and three sizes to choose from (fitting up to 6'0 or 185cm) are all excellent indicators that the tights will match up to the anticipation created by the pictures. We love the attention to detail.
Two surprises straight away on opening the packet. Firstly the legs are entirely unshaped, and secondly, the blue is only on the legs. There is a black boxer style brief just above the hem of that skirt! The flat seams are there, though, and there is an un-reinforced toe detail too. The material feels soft and quite light for 50 denier.
Colour density is perfectly even throughout, and the mid-blue shows off the contrasting black design perfectly. Despite the lack of shaping at the heel, the seam sat perfectly straight without any adjustment. The pattern is well defined, and the motif at the upper calf level accentuates the curves of your legs. The sizing is spot on, and the fit is excellent from hip to toe. Very comfortable to wear, smooth and soft to the touch and has a very classy matt finish.
That brief that shocked us so much at first grew on us. Unlike on cheaper tights, all that changed at the top of the thigh was the colour, not the denier, knit or overall quality. Combined with the black detailing, the black panty works, but we would still suggest pairing it with fashions that keep it covered. There was a point when we thought that we might be disappointed, but we were soon won over. Stylish, comfortable, fashionable and notably at this time of the year warm too!
For more Sarah Borghi products, click here. For more reviews, click here.