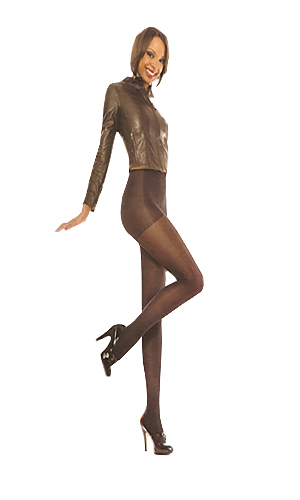 Unlike their 15 denier equivalent, these tights come in the more usual wide packet. The other significant difference aside from the denier of the legs is the panty style, which is styled low leg rather than the high leg. There is nothing to suggest that these are anything other than regular opaque tights on opening the packet. Only when you open them out, you feel the difference in weight and texture between the legs and the panty. On closer visual inspection, the transition line between the almost cardboard feel of the panty and the soft texture of the legs is visible. What is also clear to see is that the styling of the panty is high leg! Not in line with the description or the picture on the packet but a real plus from our perspective.
The legs are straight and finished with non reinforced toes. Legs and panty look to be quite generous for length in our M/L test pair. As with the 15 denier version, there is an S/M size for ladies up to 5'8 tall and 42" hips and M/L for everyone else. The panty is finished with flat seams and a cotton-lined gusset. Sizing is indeed generous for length, and you can comfortably go beyond the suggested heights on the size chart. As for fit on the hips, well, these are designed as control top tights. At the top end of the sizing, they will be tight.
The legs have a good even colour and a lovely matt finish, much like any 60 denier matt opaque. The panty changed entirely once on. A little body heat was enough to get rid of that cardboard feel, and the high waisted high leg control portion of the panty did an excellent job. You will note we said high leg portion. For once on, you can see that the panty is in two parts; the firm controlling high leg panty and a lighter low leg transition to the legs. The cost of these tights is in line with 60 denier opaque tights of the same quality, so the control comes free. Perhaps not the most stylishly detailed panty we have seen but very comfortable with effect control.
For more Pretty Polly products, click here. For more reviews, click here.