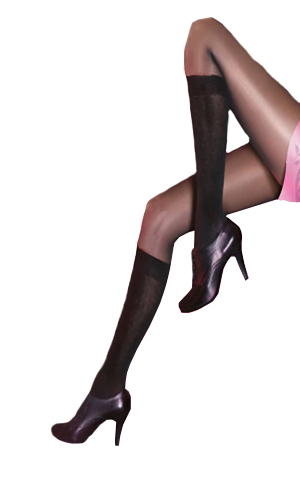 It is great to see a piece of actual British invention. Still, the innovation is quite hard to see too. So setting aside those initial negative thoughts, what are these tights like? Well, they are, in essence, a pair of mixed weight tights. Not unlike what we have seen before except that these are mimicking a pair of hold-ups. The bottom part of the leg is knitted heavier and features a cuff much like the top of a sock. There is no shaping at the heel and no reinforcement at the toe either. The look and feel are very much like a 60-80 denier opaque tight. The material used does give something of a feel of a sock, but a light sock.
The sheer leg failed to deliver even colour. As you can see in our picture, there was a lot of banding. For £10, we expected better detailing in the panty. On the plus side, the panty is nicely styled to look like "big pants" and is reasonably opaque. But the lack of gusset for comfort and hygiene and the lack of flat seams was a disappointment.
So, is it a complete disaster? Well, no, not really. If you are reasonably slim in the hips, then the panty does fit comfortably, and the light socks mean that you can wear regular boots and shoes.
Sizing is on the generous side of accurate, but the effect of the sock is somewhat spoiled if you overstretch it. The banding on the sheer leg will be an issue if you wear shorts or short skirts, but with longer winter skirts, not too much leg will be on show.
In our second picture, things look much better. We can't help but feel that these tights have been made down to a price rather than up to a quality. There is some gain in terms of comfort from the combined garment, and if you wear tights with socks and boots and need new tights, you could consider this option.
We are trying to be positive here but struggling. We might reconsider purchasing these if we needed tights and socks combined to keep warm with heavy boots. If we wanted to stay warm, standard opaque tights are just as good and probably cheaper. If we wanted the sheer tights and socks look, we would buy some new socks to wear over our tights. Somehow Pretty Polly has taken what is a good idea and created a pretty poor product.
For more Pretty Polly products, click here. For more reviews, click here.