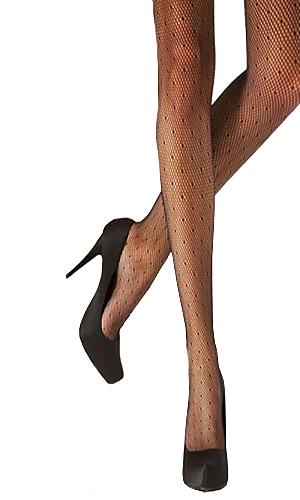 These tights are supplied in an open packet, so if you buy in a high street store, you can both see and feel them before you buy. But of course, you will be buying online and anyway, your legs should neither look nor feel like white cardboard. Extricating the tights from the packet requires some care but once done, we can tell you that the feel is typical of any fishnet, and the look differs from a Micronet fishnet only in that around one in forty holes the net are filled in.
The detailing is very good indeed, with both a very small, short and narrow, reinforced toe and a generous unlined, opaque gusset. Both of these features should greatly increase comfort and improve the look. The waistband is narrow but strong and has a textured design, like a Jonathan Aston style we recently reviewed. There is surprisingly little stretch in both the legs and the waistband. The legs will stretch to fit a leggy 5'10" but as far as 42″ hips are concerned. Well, let us say that you need to be very honest about your measurement. The waistband will go over a pair of 42″ hips if you coax gently. If your hips are anything more than 42″, you won't get these tights on.
We took great care with these tights, but still, the fishnet ripped at the seam with the gusset. The seam is so light and narrow that this is probably inevitable. On the plus side, the failed seam at the gusset did not run into the leg. The failure of the seam is a great pity as otherwise. These are comfortable and well-fitting tights that look great on the leg. We love the look and are available in black and mulberry, the look, and the spot effect is an excellent alternative to regular fishnets.
We wanted to like these tights. Really we did, but somehow they failed to impress. We don't know whether it was the failed seam or the very restrictive sizing. It was a nice style change for those with slim hips prepared to chance £6 on a pair of tights they may only wear once.
For more Pretty Polly products, click here. For more reviews, click here.