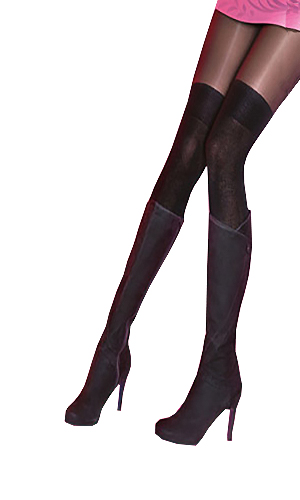 Our recent reviews of Pretty Polly have been rather negative, so we thought we should push another style up the queue and see if we could say something positive. One thing to clear out of the way straight away is the idea that these tights in any way replace socks. What we have here is an alternative to plain opaque tights and reviewing against plain opaques; perhaps we can be positive.
Basic construction is straightforward with an unshaped opaque lower leg and an opaque panty. In between, the upper leg is sheer and around 20 denier. Unlike some mock hold-up tights, the transition is made to look and feel like the top of a sock, much more stylish. The top, though, sits a little lower on the leg, as the name suggests, just over the knee. The plain panty is finished with a good quality seam that sits flat in wear. There is no gusset in the panty, but this does not compromise fit and comfort for once.
Incidentally, there are two sizes S/M (5'0″ to 5'6″, 97-155lb, 34″ -40″ hips) and M/L (5'4″-5'10", 11-174lb, 40-48″ hips). Sophie is S/M for hips, M/L for height, perfectly in the middle for both. The larger size fit perfectly. Unless you are particularly short and petite, the larger size will be the one to go for. We found that the lower leg and foot were light enough to cope with a sock worn over in cold weather. Perhaps slightly defeating the idea behind the design but considering these tights as a stylish alternative to plain opaques is a good thing.
Colour in the sheer part of the leg was not so even as we would have liked. But that part should be mostly out of sight. The best we have seen from Pretty Polly recently. But we still feel they are a little expensive for what they are. We can't help but think that Pretty Polly is taking great style ideas and marking up high retail prices to maximise margin. Their accounts may love that approach, but we don't.
When all is said and done, though, there is little direct competition for this style. And they kept one on us warm all day.
For more Pretty Polly products, click here. For more reviews, click here.