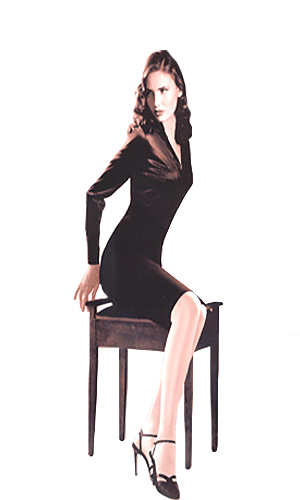 The feel in hand is undoubtedly that of "nylons". The legs do not look over long, and the feet look very short. The seam is a woven-in pattern that stops short of the panty area. The panty is finished with flat seams and a cotton-lined gusset. The detailing on these tights both in terms of design and manufacture is very good.
On the leg, the fit is excellent. The look and feel do not quite capture the essence of vintage nylons. This is a result of the Lycra in the yarn. There is enough Lycra to allow the foot to stretch so that the heel detail is on the heel, even on larger feet. Length in the leg is in line with the size charts, and with careful stretching, our tallest model could get them up to her 34″ legs.
She commented that if you are that tall, you should wear panties on top to keep them up. On the "nude" pair tested, the seam was rather too pale to be seen. For this reason, we would suggest that you stay with classic black unless you are looking to make a very subtle fashion statement.
We had two fears with these tights: that being made in only two sizes, small/medium and medium/large, they were unlikely to be generous in size, and that the sole and heel detail on this sort of tights is usually sized for a size 4-5 foot so on a larger foot the Cuban heel detail is lost. We are pleased to report that, in this case, our fears were largely unfounded. If you stay within the published size chart sizes, you will find that these are the best fitting of the seamed tights tested and the most comfortable (except perhaps for the Wolford Individual 10 Seamed Tights). A very practical alternative to fully fashioned stockings. Beautifully smooth and sheer tights given that little extra something by being seamed.
For more Pretty Polly products, click here. For more reviews, click here.