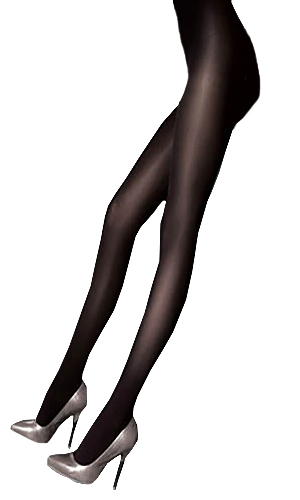 Angora Tights from Pretty Polly of Derbyshire England. Luxurious hosiery with the most expensive natural fibres handcrafted in England. Read the back of the packet carefully, and you see first of all that these tights are made in Turkey. Nothing unusual in that, of course, lots of brands manufacture their tights in countries like Turkey or China where employment costs are lower. So why the outrage?
Well, if these tights were pies, they never could call them "Angora". You see, with pies, you have to list the ingredients in order of composition. So a meat and potato pie is mostly meat, and a potato and meat pie is mostly potato. 13% Angora means 87% other stuff; these are "other stuff and angora tights" Rant over, what are the tights like?
Well, they have a soft woolly feel to them, precisely what we would expect from Viscose. Made with straight legs, they are entirely uniform in weight and finish from hip to toe. The panty has outstanding quality flat seams and a gusset to aid fit. As with other Pretty Polly styles, there are just two sizes, small/medium and medium/large, to cover the height range 5'0" to 5'10" (152-178cm), but there seems to be a good amount of stretch.
Indeed there is enough stretch for the larger size to cope with an athletic 34" leg, and the Lycra provides for a perfect fit and provides stretch. The look on the leg is just like quality woollen socks, and the feel is very soft. Lovely and warm for a winter's day, these tights are perfect for wearing with the shortest fashions or paired with a knee-length skirt and boots for a more sophisticated look.
We can't help but feel that the Angora was included in the fibre blend as much for the name as to the extra warmth and softness it brings. But these tights do perform as advertised. £12 is not a bad price in this market either. Particularly given that you should get plenty of wear out of this type of hosiery.
For more Pretty Polly products, click here. For more reviews, click here.