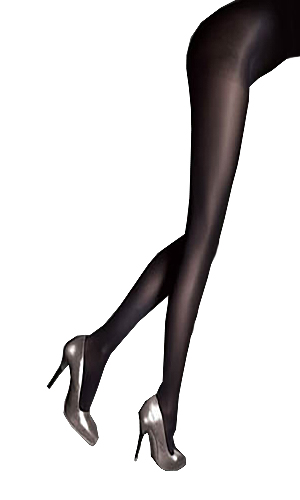 With all the fancy expensive natural fibres like angora and cashmere being used to promote warm opaque hosiery this winter, it is quite a surprise to see tights made of synthetic polyester. But take a look at that fleece jacket you slip on on cold mornings and check out that it is made of 100% polyester. So here we potentially have a fleece for your legs with just a little Lycra for a snug fit.
Pretty Polly has not gone mad with the styling. The legs are just straight tubes, but they have kept weight and finish even from hip to toe. In both sizes, the panty is finished with flat seams and a gusset. From the outside, these tights have the same look and feel like most other heavy opaque tights. But on the inside, Pretty Polly have produced a very soft fleecy finish. Incredibly soft and instantly warming. Sizing is accurate. The 8% Lycra provides a good fit and enough extra stretch in length for girls significantly taller than 5'10" to wear the larger size.
It is best not to over-stretch for the best look on the leg and the maximum warmth from the fleece lining. Also, at full stretch, you can see a band around the legs. Just below the gusset that marks the transition from leg to panty; this matt band is annoying because the look and feel above and below is the same, and it means that you have to pair these tights with shorts or skirts long enough to cover it.
If you like very heavy opaque tights and feel the cold, these tights are perfect for you. We would even recommend them for outdoor pursuits as an alternative to thermal underwear. Aside from the one small niggle about styling, we wholeheartedly recommend these very sensible and durable tights from Pretty Polly.
For more Pretty Polly products, click here. For more reviews, click here.