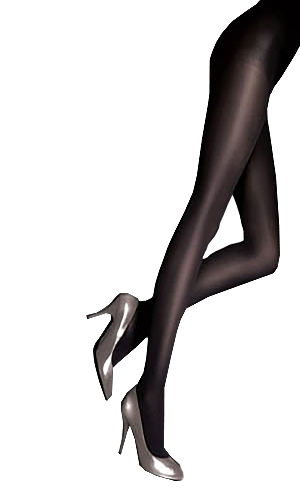 There are opaque tights, and then there are truly warm winter opaque tights. These are intended to be the latter. Pretty Polly describes the fibre as "a blend of premium natural fibres". A slight stretching of the truth as in making viscose the natural material. Often bamboo or wood pulp is heavily processed to create the final fibre, said it does have a look and feel of cotton or fine wool.
As for the tights themselves, they are made in two sizes as is usual for Pretty Polly these days. But they do claim the larger size will fit up to a height of 5'10" (178 cm) and hips of 48" (122cm). Construction is simple but with good quality details. The legs are unshaped but uniform weight and finish to the toe seam. The panty is the same weight and finish as the legs and features flat seams and a gusset for optimum fit and comfort.
Sizing is more generous than Pretty Polly suggest. At least there is an excellent stretch to cope with an averagely proportioned 35" leg. Which is a lot of leg for someone of 5'10". The Lycra that provides the stretch also ensures a perfect fit from hip to toe. The look on the leg is typical of natural fibre tights. But the heavy processing of the fibre, although not very "green", does provide a far more even colour than wool or cotton manages. The styling means they are suitable to wear with any length of skirt/shorts combined with any footwear style.
Warm, comfortable, versatile, pleasant to look and quite sensibly priced, these are the everyday tights for autumn and winter.
For more Pretty Polly products, click here. For more reviews, click here.