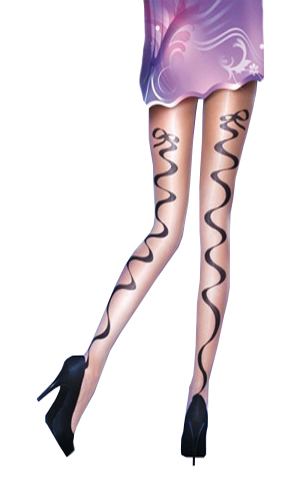 Such has been the fuss about the Henry Holland tights styles from Pretty Polly it is easy to forget that Pretty Polly have their fashion designs for Spring/Summer 2011. And they look pretty exciting. In this case, Pretty Twirly.
In common with much of the rest of their fashion tights range, including the Henry Holland styles, these are made "one size", and again we are obliged to say that the price is a little steep for tights only made in medium.
So what do you get for your money? Well, a nice touch is that the label that seals the inner bag carries instructions for putting the tights on. A very sensible idea when many young women will be wearing sheer hosiery for the first time. A pity, though, that the label has to be torn to open the bag.
The tights are smooth, soft, and detailed with a small, lightly reinforced toe, cotton-lined gusset, and a plain low leg panty of around 40 denier. Well made, but nothing special. With seasonal tights like these, the look is everything. Here, Pretty Polly has done well running the "Twirly" seam from just behind the toe to a simple bow on the upper thigh.
We can forgive the one-size design as there is simply masses of stretch. Even if you usually wear large tights, these will fit you perfectly. The 20 denier legs have dense even colour and manage to look slightly glossy 15 denier. The gorgeous background beautifully sets off the ribbon seam detail, and the seam itself is both eye-catching and slimming.
The plain panty is opaque enough to mean that there is no need to spoil your smooth silhouette by wearing any other underwear. Great looking, extremely comfortable tights that it turns out are well worth the asking price.
For more Pretty Polly products, click here. For more reviews, click here.