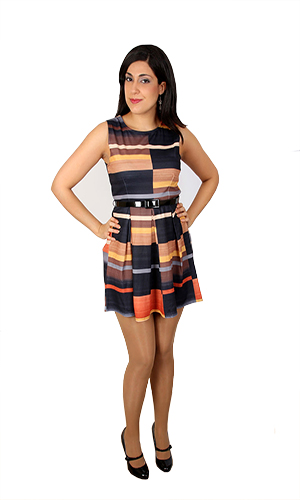 We like to think that we have learned a little about tights over the years we have been reviewing. But compression hosiery is something we do not see much of. For most brands, if they do support or compression styles, they are a tiny part of their business for older customers alongside their high volume fashion and sheer styles. For Solidea, their compression range is their sheer and fashion range.
Sizing is critical for this type of hosiery, and three are no fewer than 6 sizes to choose from. Sizes are based on a combination of height, weight, ankle size, calf size, and thigh size. Our test sample came in size 4, so we recruited a new model to help with the testing, which in theory, at least was the perfect shape and size.
Although 70 denier Naomi 70 are not opaque, semi-opaque at most. Fibre weight is constant from hip to toe, but the knit constantly varies such that once on your leg. You have even finished and colour and compression that graduates from quite firm at the ankle to almost nothing at the top of the thigh.
Solidea tights are complex pieces of engineering design and beautifully made fashion garments. The foot features a sheer toe with a run stop feature from covering for the unlikely event of a hole developing in the toe; under the ball of your foot, there is a textured patch to massage your foot and provide grip in your shoes. Unlike some other Solidea tights, the Naomi style has a complete control top. Bikini cut features flat seams, a cotton-lined gusset and a medium pressure tummy control panel.
As soon as you put your foot into these tights, you start to feel refreshed. There is no doubting their value as support tights for tired legs. Our new model, who had never tried this type of hosiery before, was blown away by how wonderful they felt. Fit and sizing are simply perfect, and the finish is flawless. The control top not only helps to flatten your tummy. But it is opaque enough to be worn without underwear when you want a smooth silhouette with no VPL.
The look on the leg is like a top-quality 30-40 semi-opaque. There is no clue that these are both 70 denier and compression tights. It is highly recommended whether you need the compression or not.
For more Tights, click here. For more reviews, click here.