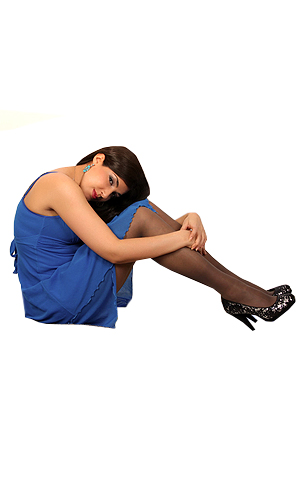 Compression hosiery is just for old ladies with oedema, and varicose veins, isn't it? Well, no, actually it isn't! What is true is that very many of those old ladies would not have those conditions now if earlier in their lives they had worn some sort of compression hosiery to help their circulation. Compression hosiery can help men, but Solidea aims its designs firmly at the female fashion market. They aim to give you the benefits of compression tights without anyone looking at your legs to tell you that that is what you are wearing.
So who should be wearing compression hosiery? Well, if you spend a large part of your day either sitting or standing still, or you regularly fly long haul, or if you find your legs feeling heavy at the end of the day, then you should try compression tights; you will be amazed. There are several choices in weight and degree of compression. Naomi 30 is a semi-opaque style offering relatively low levels of compression. From a fashion perspective, 30 denier is one of the most flattering weights of hosiery.
Detailing is first-rate. The panty is cut high on the hips and is designed to control and shape your tummy; it has flat seams and a cotton-lined gusset for optimum comfort and freshness. The feet feature a pad under the ball of the foot for comfort and a reinforced toe for durability. Compression tights are hard to put on. Well, not really if you follow the instructions on the card in the packet and take things slowly. The other advice would be to roll them back to the ankle and start again if they come up short, never pull, leave them on for 10 minutes, and try again after your body heats warms them up, so they stretch better. One more thing; for maximum benefit, put them on as soon after you get up as possible.
Even with the relatively light compression, you can feel energy surge up your legs when you put these tights on. You do feel lighter. The fit is excellent and the sizing accurate, although you can steal a few inches of length if you have slim to average legs. As compression tights, these work, but what of their fashion credentials? As you can see in the photo, the colour density is very good and perfectly even. The look and feel are right up there with the very best fashion brands.
Perhaps the biggest surprise is the price. The pricing is very competitive compared to similar quality fashion brands, sufficiently so that we would recommend these as a top choice in semi-opaque tights whether you need the compression or not.
For more Tights, click here. For more reviews, click here.