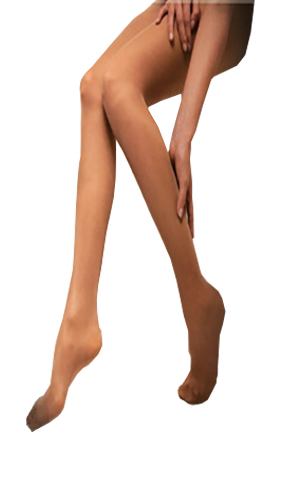 Seeing a new style is great; seeing an entirely new brand is an increasingly rare treat. So we are particularly pleased to be reviewing these tights from Italy via the USA. Support tights can vary far more than sheers, from heavy, almost industrial to sheer and fashionable. At 70 denier, there is a risk that these could be the former, but as soon as you open the packet, you can tell they are the latter!
Detailing is typical of premium fashion tights: Sheer to waist, reinforced toes, shaped but unreinforced heels, flat seams and a cotton gusset. Just lightly reinforced either side of the panty seam and made a deep finger band to give the waistband a soft and strong transition. Smooth and soft to the touch and unmistakably good quality.
According to the size chart on the packet, there are 5 sizes, the packet suggests a cotton gusset in all five, but the largest two have a comfort gusset. There is graduated compression, quite strong at the ankle. Still noticeable in the thigh, relatively easy to put on if you take it slowly and have reasonably strong fingers. Several times, one of our more mature reviewers has mentioned that support tights are great for her poor circulation but a challenge for her arthritic fingers. These are better than most. But it is a challenge for all hosiery makers to produce support/compression tights that are easy to put on.
As for what these tights feel like. Perfect fit but quite long in the body, hence some rollover at the waistband if you pull them right up. The comfort gusset in size 4 is comfortable. Visually there is excellent even colour and a look far more sheer than 70 denier, more 30-40 with a slight sheen on the finish.
Perhaps best of all, there is no hint that these are support tights. Unless you are lucky enough to be one wearing them. Not cheap tights, but you get great value for money. The look and feel are all you could wish for, and you feel they will last and last.
For more products, click here. For more reviews, click here.