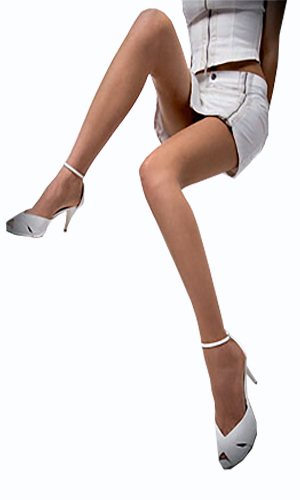 You have to look carefully at the details on the packet of these tights because the standard printed packet says there is a cotton gusset, but look at the size label that closes our size 4 XL sample packet. You see a small cartoon that shows a comfort gusset or rear panel instead. There is incidentally a size 5 XXL too, and you can be sure that this too has the comfort gusset.
Sizes 4 and 5 both fit up to 5'10" or 185cm height. Except of course, 185 cm is 6'1″, not 5'10". Still, that gives us something to talk about. Detailing is precisely what we would hope, indeed expect, from a quality Italian brand, sheer to waist, shaped legs, sheer reinforced toe, flat seams and a gusset. Our test pair came in size 4 or XL, so it featured a comfort gusset, something to be very aware of if, like us, you are used to the German convention of a lined gusset up to and including size 4, which is L in say, Falke.
There is T-band reinforcement in all sizes. In sizes 4 and 5, this same weight and finish extend to the comfort gusset. So what about the sizing? Well, of course, proportions vary but even 6'1″ seems an underestimate for the maximum height. A slim to athletic 34″ leg was no problem for size 4. The comfort gusset gives a generous fit in the seat, so our advice would be to stick with size 3 unless you are pressing the upper boundary of size 4. Fit is very good even with the comfort gusset.
The colour is perfectly even, and at 30 denier, it is dense too, still sheer but more concealing than lighter sheers. Durable for work and ever so classy for the evening. Perhaps with an eye to the evening, the toes, although "reinforced", appear more sheer than the leg. Just about OK with peep tow shoes but no substitute for an actual sandal toe. All in all, very good tights at a sensible price.
For more Tights products, click here. For more reviews, click here.