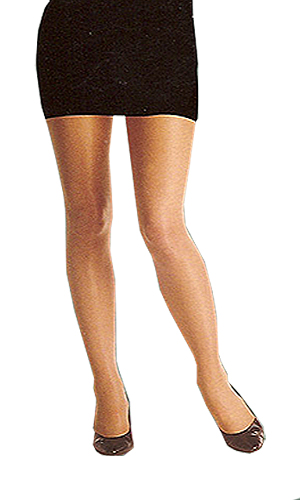 We are sure that people won't mind describing these as basic tights. They are the sort you will find in corner shops and petrol stations the length and breadth of the country. So are they any good?
The first positive sign is that there are 4 sizes to choose from, and they have 12% Lycra/Spandex to provide stretch and fit. The next good sign, the tights are folded into a plastic packet inside the box, so you are less likely to pull a thread taking them out of the box. How many have cheaper pairs of tights been ruined before even getting on to a leg?
So the tights themselves. They feel smooth and soft and also strong. Opening them reveals straight legs finished with very neat toe seams and sandal toes attached to a boxer style brief. The brief has good quality seams and an unlined gusset. We tested the large size; the x-large fits the same height but provides for hips over 48".
These tights live up to the name "super shine" on the leg. They do sparkle! Whereas some gloss tights give the impression of a shiny surface, with these, you can almost see the individual fibres catching the light. The panty section is a huge contrast and immediately forgettable. Certainly, these are tights to show your legs off in, but not for a hot date. 
The sizing is accurate, and the fit is excellent. Thanks to the gusset, even the panty section fits comfortably. We would still recommend a more expensive sheer to the waist as our first choice for everyday wear, Falke Seidenglatt, for example, as they are likely to work out cheaper in the long run; but if you are heavy on your hosiery and get a lot of pulls and snags, or need if you need a pair of eye-catching sheer tights in an emergency to keep this style in mind.
For more Silky products, click here. For more reviews, click here.