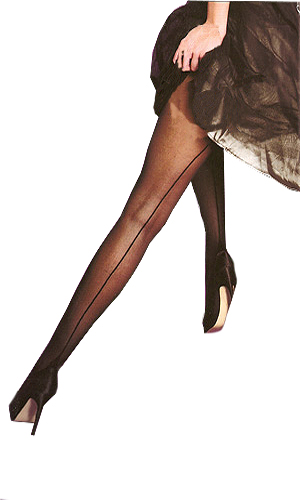 We have seen quite a few pairs of seamed tights over the years, and they have ranged from the sublime to the not so sublime. Aside from the own-brand style from the Asda supermarket chain, this is the cheapest style we have looked at.
Our test pair came in size "medium". But in reality, these are "one size" tights as there is no small or large size. So what are they like? First impressions are excellent. The feel in hand is smooth and soft, and we had not expected an impression of strength and quality. Surprises in the detailing, too, as there is a fully detailed reinforced toe and sole detail as part of the Cuban heel design, and all that is lacking is the shaping of the leg at the heel.
Sheer to waist construction and flat seams are way beyond what we would expect for under £3.00 too. Very sensibly, the back seams run to the finger band, which looks best and should ensure they stay straight. On either side of the panty, there is a narrow reinforced strip. Which, together with the finger band, should help durability considerably. A plain waistband tops everything off.
Sizing was an area where we had great concerns as the height range is supposed to be 5'0" to 5'8". But we are pleased to say that our fears were unfounded. There was enough size and stretch to cope with a 34" leg. The panty is accurately sized but not overly long, so if you are towards the upper end of the size range, you may find the waistband sitting on your hips.
The heel detail is well-sized, too, so that even if you have larger than average feet, the design will still be visible over your shoes. The seams are sharp and sit perfectly up the back of your legs. The finish on the leg is sheer with a classy sheen. Our only issue with the look on the leg was some evidence of colour banding where there were variations in the thread and one or two minor knitting faults. Only in these last two areas is there a hint of the low price tag.
Seamed tights are not everyday items, so you should either treat yourself to pure luxury or consider this bargain and get a new pair out for each evening do.
For more Silky products, click here. For more reviews, click here.