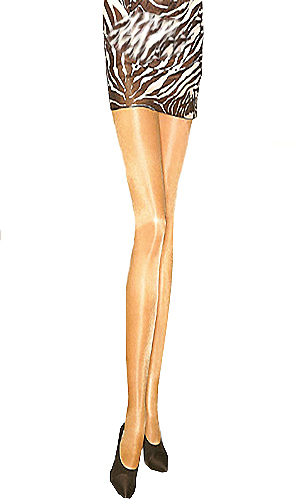 A quick look at our shop will tell you that most of the sheer tights from Silky are priced at under £2, with just the fashionable patterns reaching the heights of £4 a pair. There is no doubting the quality of these tights the moment you open the packet. They have that quality sheen that only well-knitted quality yarn can offer. The detailing lives up to the first impressions, there is the smallest of reinforced toe details (sorry, not invisible), and the sheer legs are shaped at the heel.
The design is undoubtedly sheer to hip if not quite sheer to waist featuring as it does a tiny lace bikini panty. The panty is so brief that it is scarcely bigger than the seam strengthening on true sheer to waist tights and infinitely prettier. The panty is opaque enough to remove the need for other underwear. The seams in the panty are flat and perfectly finished, and a cotton gusset is included for hygiene and improved fit. A deep waistband finishes off the garment. There are two sizes available, and this is the only area where we have some issues. 
The sizes are quoted as medium and large. But judging from the large size that we tested, and the sizing is certainly not generous. Fortunately, there is plenty of stretch available, so they will fit if you go slowly and carefully. Despite all the stretching needed to get them on once, these were comfortable tights to wear. And there was no hint of bagging or sagging.
The colour on the leg is perfectly even with just a hint of shine. Colour density is more than we would expect from 10 denier. A small point, but an important one for some ladies, is that you can buy these tights in navy blue. Unlike some shades of navy, it is quite away from black. Classy quality tights that sell at a very sensible price. Limited edition, so you had better not hang about if you want some.
For more Silky products, click here. For more reviews, click here.