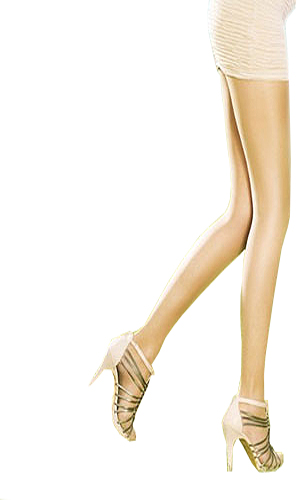 When we first saw that these eight denier summer sheer tights were "secret slimmer", we thought it was a terrible idea. We want summer rights to be light and sheer to the waist. On reflection, we realised that it was a very sensible idea as the need to shape and firm does not disappear with warmer weather. Lighter summer fashions are far more limiting in terms of what you can wear under them. So great theory, how about the tights?
There are only two sizes to choose from, small/medium and medium/large, both detailed the same way. Straight sheerlegs is finished with a sandal toe detail and a brief control panty with a cotton-lined gusset. The seam in the panty is not flat, and that is a shame as it will compromise comfort and may be visible through some clothes. Thankfully the seams fall quite flat once you have the tights on. The control top is quite gentle. A smoother rather than a shaper, and entirely plain aside from a panel on the hips that transitions to the sheerlegs.
There are two shades, "barely there" and "slightly sunkissed". Our test pair came in a slightly darker shade. The lighter shade will be best if you have yet to get your summer tan. Yes, lighter shade on untanned legs. The idea is to enhance what you have naturally and flatter your skin, not add a false tan look. Get the right shade, and you should have people guessing whether you are wearing tights at all.
Size is more generous lengthways than the size chart suggests. The larger size will easily cope with 34" long legs, long if you are 5'10". The medium control top is snug if you are at the top end of the size range, but that is the idea. Excellent tights at a sensible price. A second-skin fit on your legs and a comfortable control top has the added benefit of doing away with the need for any other underwear.
For more Pretty Polly products, click here. For more reviews, click here.