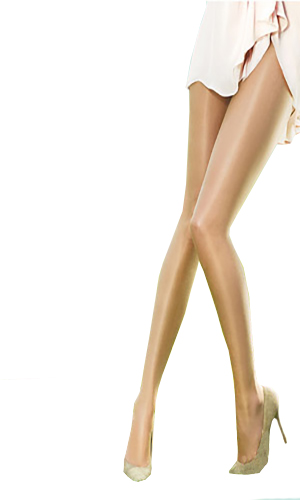 We can perhaps all remember the summers of our teenage years. Long hot sunny days, tanned legs, and perfect skin, although we did maybe not appreciate it at the time. That perfect smooth, natural tanned look is how we would love our legs to look now. The way to get that look is ultra-sheer hosiery.
Pretty Polly has an excellent track record of making summer tights that are not only sheer but cool and finished to give a freshly oiled finish. We last looked at them five years ago when they went by Pretty Polly Perfectly Natural Sun Oil Sheen Tights. We think the change of name and the tiniest change in fibre composition is reasonable to look at again.
There are just two sizes to choose from these days, small/medium and medium/large, with sizing defined in height, weight and hip size. On the face of it, the sizing is quite limited, with a range of heights from 5'0" to 5'10" (152-178cm) and a range of weights from 97-174lbs (44-79kg). The clearest line is between sizes in the hip measurement, up to 40" or 102cm for the smaller size, 40-48" or 102-122cm for the larger.
First impressions. A gossamer-thin, soft light leg; it is not only the colour that is "barely there". There is no real evidence of any oiliness. As for the detailing, you get some shaping at the heel and, surprisingly, a lightly reinforced toe for summer tights. The panty portion is heavier but knitted to be breathable. It features a cotton-lined gusset and neatly sewn seams.
Sizing is more generous than the chart suggests. The larger size will stretch to accommodate a 35" (90cm) slim or athletic leg, which is a lot of leg if you are 5'10". Fit is like a second skin, thanks to the very fine yarn and the excellent proportion of Lycra.
You do get a subtle, freshly oiled look that is incredibly flattering. Pick the correct shade, and someone would have almost to touch your leg to see the tights; even the lightly reinforced toe is hard to see. You perhaps don't want anyone to touch your leg as the feel is almost as smooth as an oiled leg too! The panty is nothing special to look at. But it keeps the legs in place and is cooler than regular tights – perfect tights for summer at a sensible price.
For more Pretty Polly products, click here. For more reviews, click here.