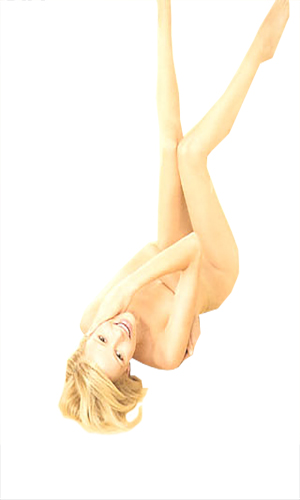 We had a slight feeling of deja vu when we read the details of these tights. Then the penny dropped that they are pretty similar to Pretty Polly Naturals Sideria Tights, which are the same fibre mix and just a little heavier at seven denier. Like this other style from Pretty Polly, they are designed for summer wear.
As with the seven denier Sideria tights, the first impressions are not tremendous but open them out of the card, and things improve. These are very light and gossamer-thin tights. Sheer to waist with strips of reinforcement on either side of the body seams, around the cotton-lined gusset and below the waistband. These are such sheer tights that seaming without this transition would be folly, but we would have liked narrower strips. The seams themselves are fine and well finished but not flat.
Being summer tights, there is, of course, a sandal toe detail. This ensures that the tights live up to their branding. Aside from smoothing and adding a nice sheen of colour, the tights are pretty much invisible. When lit from the side, there is a lovely sheen that could be mistaken for a light oil coating.
Despite the absence of Lycra, there is plenty of stretches, and the fit is good. These are delightfully light and smooth tights to wear. They feel fantastic too. Perfect for summer. Get the right colour for your skin tone, and all that friends will notice is that you have gorgeous legs. More generous in the fit than the seven denier Sideria tights. These may be the tights for the summer.
For more Pretty Polly products, click here. For more reviews, click here.