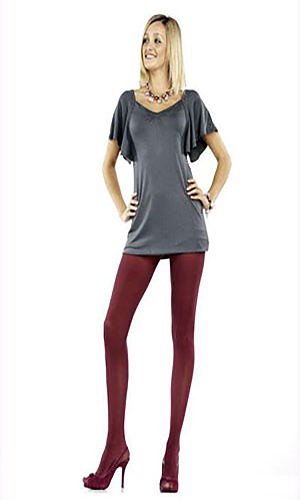 We must start with the box. They say the tights are designed in Japan. The box must be too, as it is miniaturised just 6x9x4.5 cm. What this means, of course, is that you can keep a spare pair in your handbag in case of emergencies or if you feel like changing colour mid-evening. There is quite a selection of colours, and our test pair came in "Teal".
Lots of colours but only one size, designed for everyone up 107 cm (42") hips and 178 cm (5'10") tall. The sizing is a bit of a fright when you first take the tights out of their box; you really would think they were made for a child and a Japanese child at that.
Construction is quite basic, straight tube legs finished with a simple toe seam, boxer-style brief with an unlined gusset. The body seams are well made but not flat – no need to worry about sizing. There are masses of stretch, so they should fit even if you are a little bigger than the packet suggests as a maximum size. Fit is pretty good, too, with no obvious bagging or sagging. The finish on the leg is matt and very soft to the touch.
The colour of the legs is very even. But the design is let down just a little by the transition from the legs to the slightly darker brief, marked by a 2 cm wide transition zone. If you were to wear these tights with short shorts or a skirt as short as the one pictured above, these would be visible and funky opaque tights like these are meant for wear with shorts. That said, these are quality tights that are a must-have for the spring. Just watch the length of your shorts and skirts.
For more Pretty Polly products, click here. For more reviews, click here.