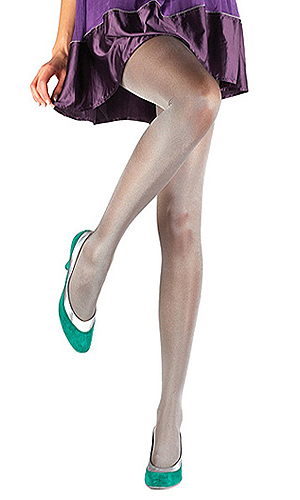 When we first saw this on our list of samples, we thought that Pretty Polly had maybe reproduced their Metallic Tights from the late 1990s. But these are pretty different. Rather than being sheer tights with a metallic sheen, they are semi-opaques with a far more metal look to them.
Made sheer to waist with flat seams and a gusset all topped with a 3cm deep waistband. These are well-made tights. They are "one size" concerns as even 12% of Lycra can only give limited stretch. The good news for taller ladies is that they are long, quickly reaching the top of a 36″ leg. We suspect that they may be too long for short to average ladies.
We tested a pair in silver, and we have to say that they are one of the most flattering tights we have ever tried. The look is like the surface of liquid metal, constantly shifting with movement and changes in the light. They feel good on the leg, too, especially when you run your hand over them, and you will do this more than once. Couple these tights with a grey dress/skirt/short and grey shoes, and every eye in the room will be on you. The fit is excellent too.
They are not quite perfect as we could see a slight change in colour at the top of the thigh, but close. Shimmery, smooth, shiny, sexy as well as durable and well made. If you like a gloss look to your hosiery and are not short, you should buy several pairs!
For more Pretty Polly products, click here. For more reviews, click here.