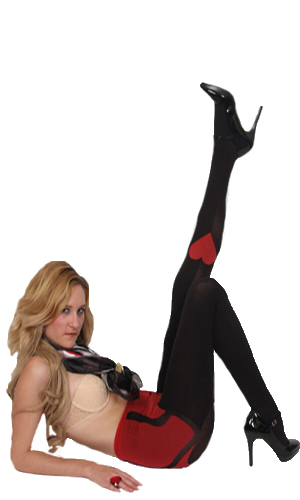 Given that hosiery manufactures must have their teams of designers putting together collection after collection, season after season, you might wonder why they need to use celebrity designers to produce designs for them. Well, of course, there is the obvious answer that they can sell "designer" styles at a higher price.
Perhaps more importantly, the celebrity designer can go a little outside the box and come up with something completely new. Confession time now, I have no idea who Joanne Hynes is, but I can tell you that she knows how to style a pair of tights for maximum visual effect. The legs are unshaped, and the panty has no gusset. This design is unique. You can make out that down the inside of each leg, there is a more sheer strip that cleverly is not straight but slightly wavy. This extends upwards into the panty as the black "straps" through the red. The only other adornment is a large red heart on the inside of each leg.
The comparison with standard opaques extends to the sizing. These are "one size" tights to fit up to 5'10" (178cm) tall, 160lb (72kg) weight and 42" (107cm) hips. If you are at the bottom end of the range, you might find them too big. On a slender model (5'6" and a UK size 8), they do fit, as you can see in our picture. If you are much bigger and taller, the good news is that there is stretch to go way beyond what Pretty Polly suggest. The panty section is particularly generous. (Will fit up to 6'3, 220lb, 46" hips).
The simple styling does not compromise fit, so you will feel as good as you look. The weight means they will keep your legs warm too. The one flaw in the design is that the gorgeous panty section would be hidden, so you need to take your skirt as short as you dare, pair it with high black heels, and then the vertical elements in the design will make your legs look endless.
Of all the tights in for review this season, this is the one the models wanted to take home. Lots of style and quality without breaking the bank.
For more Pretty Polly products, click here. For more reviews, click here.