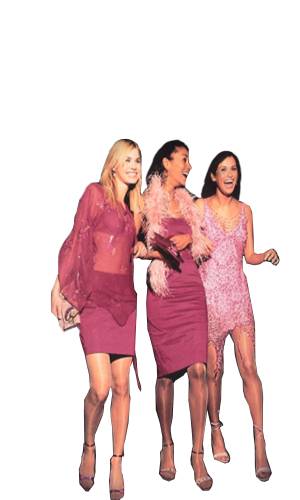 We have reviewed these tights twice in the past, once in the packaging below and once after the newer packaging above was introduced. The last time we looked, we said, "These tights are just a repackaging of the earlier design". On closer inspection, although the overall design is the same, the sizing has changed. In light of this small error and the fact that this style is a favourite of so many of our visitors, we are taking another detailed look.
So, about the sizing. In common with the rest of the Pretty Polly Italia range, the previous three sizes of Small, Medium and Large have been replaced with two sizes. Small/Medium and Medium/Large. The smaller heights are between 5'0" and 5'6", and hip sizes 34" to 42". If you are taller (up to 5'10") or bigger in the hips (up to 46"), you will need the bigger size.
The weight of these tights is apparent even in the packet. Even released from their cardboard envelope, the impression is of tights much heavier than 30 denier. Unwrapping them from the card reveals sheer to waist tights with the slightest shaping at the heels and reinforced toes. The brief is finished with flat seams and a lined gusset. There is no reinforcement on either side of the seam. Just the narrowest finger bands below the 4 cm deep waistband.
We had our tallest tester try these tights, and we are happy to report that the Medium/Large size stretched comfortably beyond the suggested sizing. The fit was perfect from hip to toe with perfect even colour. A 30 denier look but with the strength of heavier tights, ideal for everyday wear in the colder months. In black for the office, in black or skin tone for evenings out in short skirts or shorts.
Fantastic value at £4.50. You would not get the quality of finish with Wolford or Fogal, but these tights are a quarter of the price and much better than a quarter of the quality.
They are exclusively designed in Italy to ensure the ultimate quality and feminine styling. Italia is the premium choice for women who want a hosiery that is glamorous and sophisticated. Very shiny, surprisingly soft to the touch. Best in a pale skin tone or nude, these are very expensive looking sexy tights at a great price.
For more Pretty Polly products, click here. For more reviews, click here.