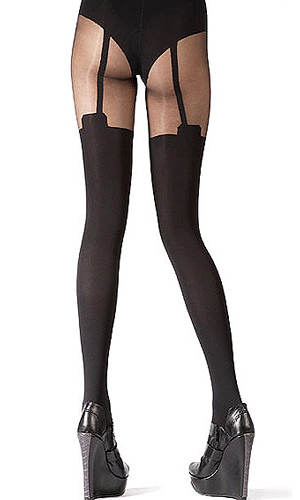 We usually start our reviews with impressions of the tights as we remove them from the packet, but we are stepping back a bit. One size tights for £9.95? A packet designed for the style with a picture on the front but no style-specific notes on the back? No indication of just how sheer and opaque the various parts of the tights are? These will have to be very, very good tights to excuse such lazy packaging design.
Well, the packet is open, and we have another complaint. The colour is described on the packet as blue. But, as anyone can see, the tights are turquoise – gorgeous colour but not blue unless you are thinking duck egg.
The first good news is that the feel in hand is deliciously soft. The second bit of good news is that the seams in the panty are flat and well finished, and there is a cotton-lined gusset. Visually these tights are most peculiar before you put them on. The sheer portion between the panty and the straight legs is much more narrow than the opaque parts, no doubt because being sheerer, it will be far more elastic.
The portion is crossed by two thin lines of opaque material on each leg, one front and one back. The toes are "reinforced" but oddly sheerer than the legs. The sizing seems quite generous, so the one size should fit you unless you have legs more than 34" long.
OK, so we have been pretty negative so far, but this design does work, not least because it does not try to look like stockings and suspenders. The legs have good even colour, and the sheer panels on the upper thigh turn a boring opaque into a funky design. Once separated from the leg by the sheer parts, the panty takes on the look of a pair of panties rather than the top of a pair of tights and is opaque enough not to need any other underwear.
The colour is perfectly even. The fit is perfect. Worth £10? Well, yes, they are if you are looking for something fun to wear to a party in a short dress. The vibrant colours are the perfect antidote to the nights and grey weather.
For more Pretty Polly products, click here. For more reviews, click here.