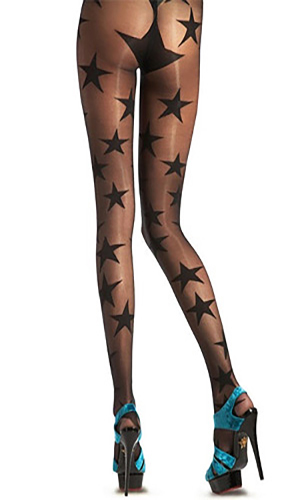 We don't usually review one style in two colours. But Pretty Polly market this style and the similar Superstar Gold separately because there are differences beyond the different colours. £15.00 does seem a lot for one size tights from Pretty Polly, even if Henry Holland designs them. But we have seen from other styles in the range that there is some justification.
Extract the bag from the square House of Holland packet and then pause to read the instructions on putting your new purchase on. If you ripped the instructions tearing the packet open, you would read our advice on putting tights on before proceeding. We include this advice as more than one of our readers has ruined their new House of Holland tights before having the joy of wearing them. The issue is not of fragility, but inexperience as the House of Holland range introduces more young women into the delights of sheer hosiery.
Pretty Polly doesn't declare the denier of these tights, but we estimate it to be 15. The fabric has quite a soft feel to it. We like the flat seams in the panty, but the lack of a gusset is a slight disappointment. Reinforced toes increase durability but should preclude you from wearing open-toe shoes.
5'10 is quite a generous maximum height for one size tights, and our tests showed that you could be a pretty leggy 5'10" (35" inseam and slim to athletic legs) and not have any length issues. The hip measurement is a genuine maximum, do not consider buying these tights if your hips are bigger than 42".
The lack of a gusset becomes evident once you are dressed. The largest star in the design is strategically placed where the gusset would go. This large opaque star improves durability and protects your modesty. Fortunately, the flat seams and good quality construction combine to remove fit issues the lack of gusset could have caused.
As for the finish, this is where the difference between the black and gold versions is apparent. In the gold version, the stars are Lurex. In the black version, the stars are dark and have a matt finish, the sheer base material has some sheen to it, but you would need strong direct lighting to get the look pictured above. Worth £15? Yes, because these are well-made tights that give you a unique look.
For more Pretty Polly products, click here. For more reviews, click here.