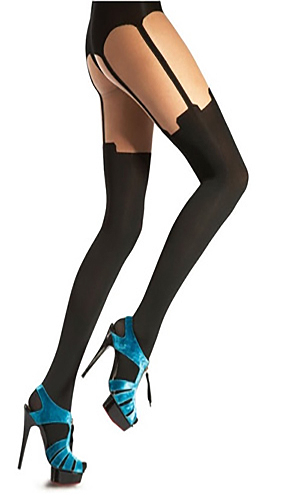 It is tempting to dismiss these tights as yet another design trying to look like stockings and suspenders. An old idea that has been resurrected by many hosiery brands this season and last. However, the use of nude material on the upper thigh and the highly stylised opaque stocking design suggest that these may be different.
Again we must commend Pretty Polly for putting instructions on how to wear them on the label of the inner packet. There is no way to get at the tights without seeing these notes even if you don't read them. The only problem is the label gets ripped opening the packet, an easy-peel and reseal label would have been fantastic.
Pretty Polly has used the latest knitting techniques to combine opaque legs, suspender straps and brief with sheer upper leg panels. In simple terms, this over knits the opaque parts onto the sheer tights. The legs are straight, around 60 denier and finished with an unreinforced toe detail. The brief is the same weight and matt finish as the legs and features flat seams but curiously no gusset; a design decision that may compromise the fit.
One size tights are always a bit of a worry. In essence, they are size medium, potentially limiting a style to ladies of average height and build. Well, we need not worry, at least not for those taller than 5'10". Our test comfortable stretched to accommodate a 34" leg and 44" hips were no problem either. Some care is needed putting these suspender style tights on, the matt opaque lower leg is strong and will take rough treatment but use the exact rough handling on the slightly glossy upper leg, and you could get tears (in both senses of that word). The panty is also durable and sufficiently opaque to negate the need for any other underwear.
The Henry Holland Collection from Pretty Polly is all about the look, and these tights look great on. An impression of stockings and suspenders rather than a copy of every detail has far more of the stockings and suspenders allure. The stocking top is low enough on the leg to show it off with a very short skirt. But high enough for you to give a glimpse with a skirt of a more modest length. Leaving out the gusset means a fine narrower strip of dark material between the legs and more of a look of panties than tights trying to look like them.
The lack of gusset does not compromise comfort. Our only issues around comfort and fit are related to the foot and ankle, where things are only average. Well worth the £12.00 asking price and our pick of the Henry Holland collection to date.
For more Pretty Polly products, click here. For more reviews, click here.