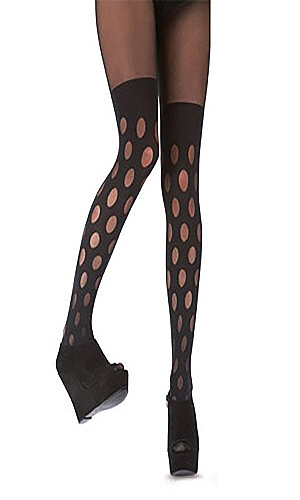 Whether it is Mark Fast for Jonathan Aston or Henry Holland for Pretty Polly, a lot of the hype around hosiery at present concerns everyday brands adding cachet by using celebrity designers. The House of Holland range leans heavily on the technique of combining different deniers and colours in a single pair of tights.
Here the combination is of 60 denier and 20 denier material, all of one colour. The 60 denier is in the panty and the lower leg. The 20 denier in the upper thigh and the circles on the lower leg. Aside from the mix of deniers, construction is pretty straightforward. With unshaped legs finished with a reinforced toe detail and a high leg panty finished with flat seams and a cotton-lined gusset. There are no complaints about the detailing. But £12.00 for size tights, even ones with good quality detailing, is a bit steep.
There is plenty of stretch, but you need to be super careful putting these tights on. In the past, we had issues with laddering tights from this range when putting them on, even though everyone here is well-practised at putting tights on. This time we had no fears; there is a great sense of strength and quality to the 60 denier material. To cut a long story short, this was our undoing. The slightly uneven colour of the 20 denier upper leg distracted us while looking for a slight extra stretch, and a finger griping the 60 denier material found a 20 denier dot and rip – tights ruined.
A great pity as the look and feel was very promising. The only issue being the dots putting slightly out of round if you stretched the tights too much. Paired with a skirt that covers most of the sheer portion, the look is fun and effective, and being essentially 60 denier tights, these are pretty warm.
Henry Holland comes up with some exciting designs, but we are not sure that they all translate to great tights. Whether the designs are themselves flawed or whether Pretty Polly are somehow lacking in executing them, we can't say. But we have had more failures putting on House of Holland tights than any others. The current season is far better than the past. But the fact remains we failed to get one wear for £12.
If you are very careful and prepared to chance £12, this tights style gives you a unique look. We will be looking elsewhere for our Christmas party tights.
For more Pretty Polly products, click here. For more reviews, click here.