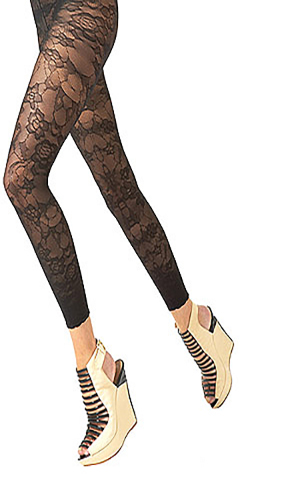 We must confess to starting this review with a degree of prejudice… £12 for one size, Pretty Polly tights seems a bit much. On the upside, they are "Made in England", not just designed here. One size incidentally means no more than a 42" hip and no taller than 5'10".
The tights come in the standard "House of Holland" square box. The inner packet is sealed with a label that carries instructions on how to put them on. We like the instructions on the sticker as you are almost forced to read them. Unlike instructions on the inner card that can be discarded in your rush to get dressed.
Instructions are needed as we are in a period of growing hosiery wear and there are still many girls of all ages wearing tights for the first time. If we were going to be picky, we could say that referring to "the toe area" in the instructions is confusing with footless tights.
The tights are nicely made, the lace pattern extends from the very light cuff detail to the slightly deeper waistband. The waistband is the turnover and seam type, not quite what we would hope for at £12 a pair. The flat seams and cotton lined gusset are well designed and finished.
For once, I think we can forgive "one size" sizing. These strong tights with masses of stretch, too, so they really should fit all shapes and sizes. A 34" leg is accommodated with ease even when combined with hips right on the size limit.
The fit is very comfortable. The cuff holds the bottom of the leg in place with no hint of pressure, and the lace material follows all your curves. Again being picky, we could not get the seams in the body to sit perfectly straight. All in all, we like these tights a lot, but we can't help feeling just a little short on quality detailing for £12.
For more Pretty Polly products, click here. For more reviews, click here.