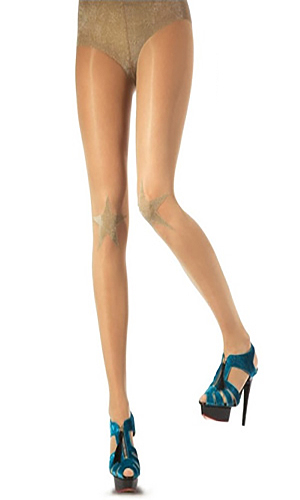 The Pretty Polly House of Holland range of tights has been one of the fashion highlights of the last twelve months. Perhaps doing more through its use of celebrity placements to get young women into hosiery than any other range. Star of the range, if you will excuse the pun, is the Superstar Tights which are excellent in black and sublime in gold. That style is covered in stars. This one has a star on each knee, so is less truly more?
We still have a bit of an issue paying £12.00 for one size tights from Pretty Polly. But designer exclusivity seldom comes cheaply. In keeping with the rest of the range, the almost square cardboard packet is big on House of Holland branding with Pretty Polly much less in evidence. The inner plastic bag is sealed with a paper label that carries instructions on handling and putting on the tights; it is a great idea when so many wearers will be trying their first sheers, but an easy-peel label would be better to rip to get at the tights.
Lurex panties! That is the first impression. The entire high leg styled panty part of these tights is Lurex. How many of you would buy Lurex panties? On the upside, they are pretty opaque, so you may not need other underwear to retain modesty, and the seam is flat. On the downside, there is no gusset, and the fabric feels quite harsh.
The legs, in contrast to the panty, are light, smooth and soft. There is just a lightly reinforced toe detail and, of course, a large Lurex star halfway up each straight leg. Will the star sit at the knee regardless of leg length and foot size?
The answer to that question appears to be yes! 22% Lycra gives a tremendous amount of stretch. So you should be able to get a perfect fit regardless of where you are in the size range. You would need to be a very leggy 5'10" to make use of all of it. A gusset would be nice, particularly for a perfect fit on the more full-figured woman. But even without it, the fit is good, and the roughness of the Lurex is not evident on the inside once you have the tights on.
Slightly more subtle than the Superstar Gold Tights and more versatile too. The single star is something a stylish young woman could carry off with shorts or a short skirt in the daytime, whereas the more famous design is perhaps more for parties. The sheerlegs themselves are a delight. We would love to know if Pretty Polly make a basic sheer of the same weight and finish.
For more Pretty Polly products, click here. For more reviews, click here.