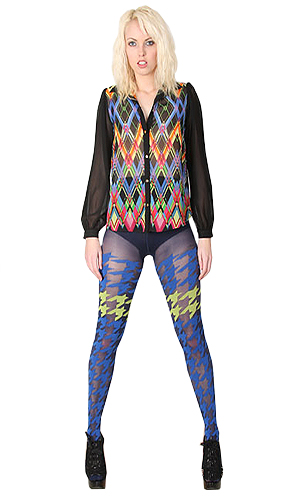 Henry Holland has designed this cutting edge collection of legwear by mixing sheer and opaque fabrics with some lovely House of Holland twists. Developed and made in England by Pretty Polly. One size fits up to hip 42″ (107cm) height up to 5'10" (178cm).
We have seen a fair number of dogtooth and houndstooth designs over the years, almost all in the traditional black and white. All that has varied has been the size of the pattern and its quality and definition. As you can see here, Henry Holland has dropped white in favour of navy blue and added a lime green "stocking top" into the design.
As is typical with Pretty Polly fashions at present, these are one size tights to fit up to 5'10 (178 cm) tall, a weight up to 160lb (72kg) and hips up to 42″ (107cm). Pretty Polly has put some quality into the panty with both flat seams and a gusset. The panty is plain with the houndstooth pattern starting on the leg just below gusset level. The legs are straight and finished with a simple reinforced toe detail.
Knitting in the houndstooth pattern gives an almost fleecy feel to the inside of the legs. A plain panty is very sensible to prevent the texture of the pattern from showing through tight clothes. Only once you have these tights on do, you appreciate them. The legs are sheer and shiny, with the matt houndstooth pattern applied over the top, contrasting colour and weight and texture.
The plain panty portion is opaque and "big pants" style. The panty styling is comfortable to wear, gives a smooth silhouette and removes the need for any other underwear. Sizing is surprisingly generous, and the stretch from 12% Lycra also provides for a good fit.
If we have any reservations, it is the green band above the knee. It limits both when you can wear these tights and with what. Such is the feeling of quality in these tights. It is hard to believe they are Pretty Polly one size. Once you have them on, you may not want to take them off.
For more Pretty Polly products, click here. For more reviews, click here.