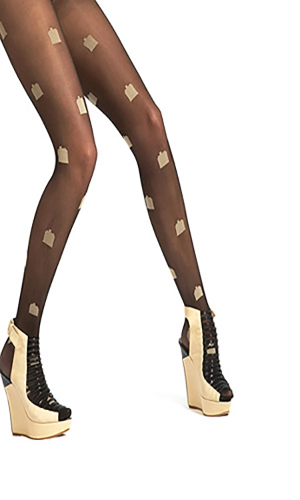 The House of Holland range is very much "in fashion" at present. We had hoped to include photos of one of our ladies in these tights, but she declined based on poor experiences with the brand's quality in the past, so you will have to make do with words.
The tights come in the standard House of Holland square box. The inner packet is sealed with a label that includes instructions as to how to put them on. The instructions are a good idea, but they also hint at worries about laddering.
OK… £12 for one size tights. They must be joking! One size is up to 5'10" (178cm) tall and 42″ (107cm) hips, by the way. Detailing is quite bare. Straight legs with a reinforced toe, sheer to waist with flat seams in the panty and a cotton-lined gusset. The waistband is quite deep at nearly 4 cm, but there is no finger band.
The sizing looks very small at, but you can feel the capacity of the material to stretch. We chose a model with long legs to see just what the tights can stretch to, as is our habit. Well, a 34″ long leg was no problem. There is plenty of stretch, and once on, the fit is good too. The colour is perfectly even, and the finish is a matt, a combination that does an outstanding job of emphasising the curves of your legs.
The house design is a matter of taste. From our point of view, we can't see that adding beige houses to black tights do anything other than telling people you bought this brand. The design seems to introduce weakness too, despite applying even more care than usual, our test pair developed a run starting at the corner of one of the houses on the hip; in this case, out of sight, the tights are still wearable. Would we buy these tights? Most certainly not, £12 for tights that you may not even get to wear once, and after one wearing the novelty will have worn off anyway, is just far too much.
For more Pretty Polly products, click here. For more reviews, click here.